Price Excludes GST. Freight is charged per 1000L IBC.
New 2.0 Concentrated Formula Available From November 2021:
1000L IBC of concentrate will cover up to 40 Ha (100 Ac) when mixed.
ORDER INSTRUCTIONS:
To submit an order, press the "Complete Order Form" button below and you will be taken to our short order form.

Once we've received your completed order form, we'll send you an invoice with your order total including freight and GST. Payment can be made via credit card through our online checkout, or via bank deposit.
If you have any questions regarding ordering or shipping, you can give us a call on (08) 8233 0804 or email us at support@microstartfarming.com.au
Our Liquid Microbe Agriculture Mix is a biological pasture application designed to rapidly restore the essential soil biology in virtually any soil so that it becomes the healthiest, most productive, profitable and self-sustaining it's ever been while also kick-starting productivity with a combination of potent natural fertilisers.
We offer this mix in 1000L amounts (or in 20L as a Hobby Farm Mix), with freight across Australia.
With the guidance of world-renowned soil biologist Dr Mary Cole from Agpath (www.agpath.com.au) we've developed this biological application to be suitable for livestock, dairy and crop farmers all across Australia. We make specific adjustments to each mix based on soil type, pasture type, location and farming practices in order to deliver the best results for each specific farm we treat.
We create this Agriculture Mix to be the most complete and fastest way to start cultivating the essential biology your soil requires for healthier, more productive and self-sustaining pastures.
By deciding to farm biologically with our Liquid Microbe Agriculture Mix, farmers are able to quickly replace the need for any and all synthetic fertilisers and chemical forms of pest, disease and weed control that continually degrades the quality of their soil.
✔ Establishes and boosts natural soil microbe ecosystem resulting in healthier and more productive soil and pasture.
✔ Stimulates healthy root growth while reversing soil compaction so that plants can derive the most goodness from the soil as possible.
✔ Increases plant brix levels which improves nutrient density and plant taste alongside natural pest and disease resistance.
✔ Improves resilience of plants to harsh conditions such as heat, drought and frost due to higher plant immunity and stronger, deeper root system.
✔ 100% Organic - No chemicals or artificial ingredients used!
Microstart Microbial Mix of Beneficial Soil Biology
We produce our own organic, liquid microbe concentrate that contains billions of beneficial soil bacteria and fungi.
By adding our liquid microbes to your soil, you are actively building your soil microbe ecosystem and building the natural soil food web - allowing your plants to derive all the nutrients it needs naturally!
We tailor the biology makeup for each mix we create based on our clients soil type, pasture types, location and farming practices to ensure the best possible results for each farm we treat.
Certified Organic Liquid Kelp
Containing over 29 beneficial minerals and trace elements. Liquid kelp not only helps to feed and grow your soil biology, but it also feeds your pasture without harming the soil biology in any way.
Kelp allows you to achieve that productivity "kick" without resorting to harmful chemical fertilisers that result in long term damage to the soil.
Certified Organic Fish Hydrosylate
Naturally high in phosphorus as well as a wide range of major nutrients and trace elements in plant available form, fish hydrolysate is beneficial directly to plants as well as being especially useful for feeding soil fungi - which then helps to build solid soil structure and integrity.
Certified Organic Plant Stimulants
Organic, sustainably made liquid biostimulate that contains naturally occurring organic acids to enhance and support microbial activity.
Certified Organic Phosphorus
Natural bioavailable Phosphorus to stimulate growth.
Simple Sugars
We add in some simple sugars to further stimulate beneficial bacterial activity and growth.
USE INSTRUCTIONS:
Strain product when mixing to remove solids before spraying.
Can use boom or jet spray.
Keep spray pressure below 20 psi to avoid harming microbes in mix.
Coverage:
1000L IBC will cover up to 40 Ha (100 Ac) when mixed.
BROAD ACRE:
Mix with fresh, non-chlorinated water at the ratio of 1:4 (microbes:water). To make 1000L of mixed product, mix 200L of Liquid Microbe Ag Mix with 800L of water. 1000L of mixed product will cover 8Ha (20Ac). Apply mixed solution at approx 125L/Ha (50L/Ac). 1000L IBC of Liquid Microbe Ag Mix will cover up to 40 Ha (100 Ac) when mixed.
DRIP IRRIGATIONS:
Mix with fresh, non-chlorinated water at the ratio of 1:9 (microbes:water). To make 1000L of mixed product, mix 100L of Liquid Microbe Ag Mix with 900L of water. Apply 1000L of mixed product to approx 8Ha (20Ac) of vines.Apply every 2 weeks during growing season.
For any application related questions, feel free to give us acall on (08) 8233 0804.
Step 1: Complete Order Form
We customise each mix based on soil type, pasture type, location and farming practices in order to achieve the best results for every pasture we treat.
For this reason we require customers to submit our short order form to provide details about the specific pasture to be treated, as well as to specify delivery and contact details.
Step 2: Receive Invoice
Once we've received your completed order form, we'll send you an invoice with your order total including freight and GST. Payment can be made via credit card through our online checkout, or via bank deposit.
Step 3: Produce Mix and Ship
Once payment is received we'll produce your customised mix based on the details provided in the order form, and then ship your order to your nominated freight depot.
Note: During periods of high temperatures (35 degrees plus), we will typically hold orders in order to protect the integrity of the product and ship once temperatures decrease.
---
What Other Farmers Are Saying:

"I can see the benefit after only one year. Very happy and highly recommend Microstart."
J Treglown, Poolajeilo Vic
"Good hay result. Would recommend Microstart to other farmers because it works. Happy with your service, book us in for this year!"
A & F Martel, Mt Gambier SA
"Working with Microstart was a good experience. Darren is easy going and has plenty of knowledge about Biological Farming. I would recommend Microstart to other people who are looking for other alternatives and to get away from super fertiliser."
R White, Tantanoola SA
"Noticed an immediate response after spraying, capeweed vanished, colour of grass was intense green and thickened up."
N & D Claydon, Milltown Vic
"Every year I was stuck in a cycle of putting on super and then spraying for weeds, and year after year I was using more super to get the same result, while even more weeds grew back that I would have to spray. Eventually I had enough and decided to start farming biological with Darren and Microstart. This year I've cut hay in paddocks that were treated biologically that I've never been able to cut hay in before."
Jim Cope, Mt Gambier SA
Biologically Treated Pasture in Compton, South Australia.
This property has been biologically treated for over 15 years and has seen no chemical inputs during this time (compare colour to conventionally farmed pasture in the background):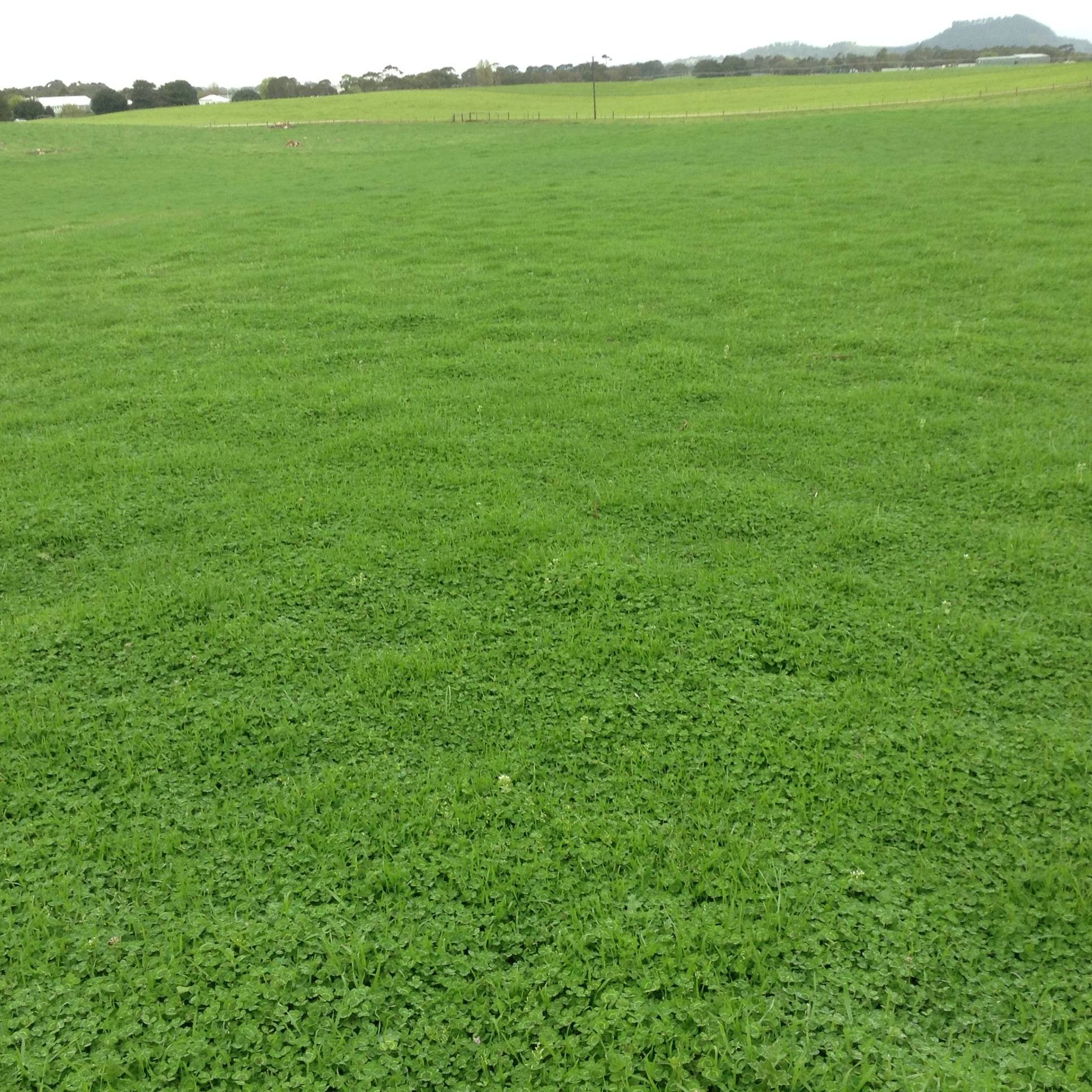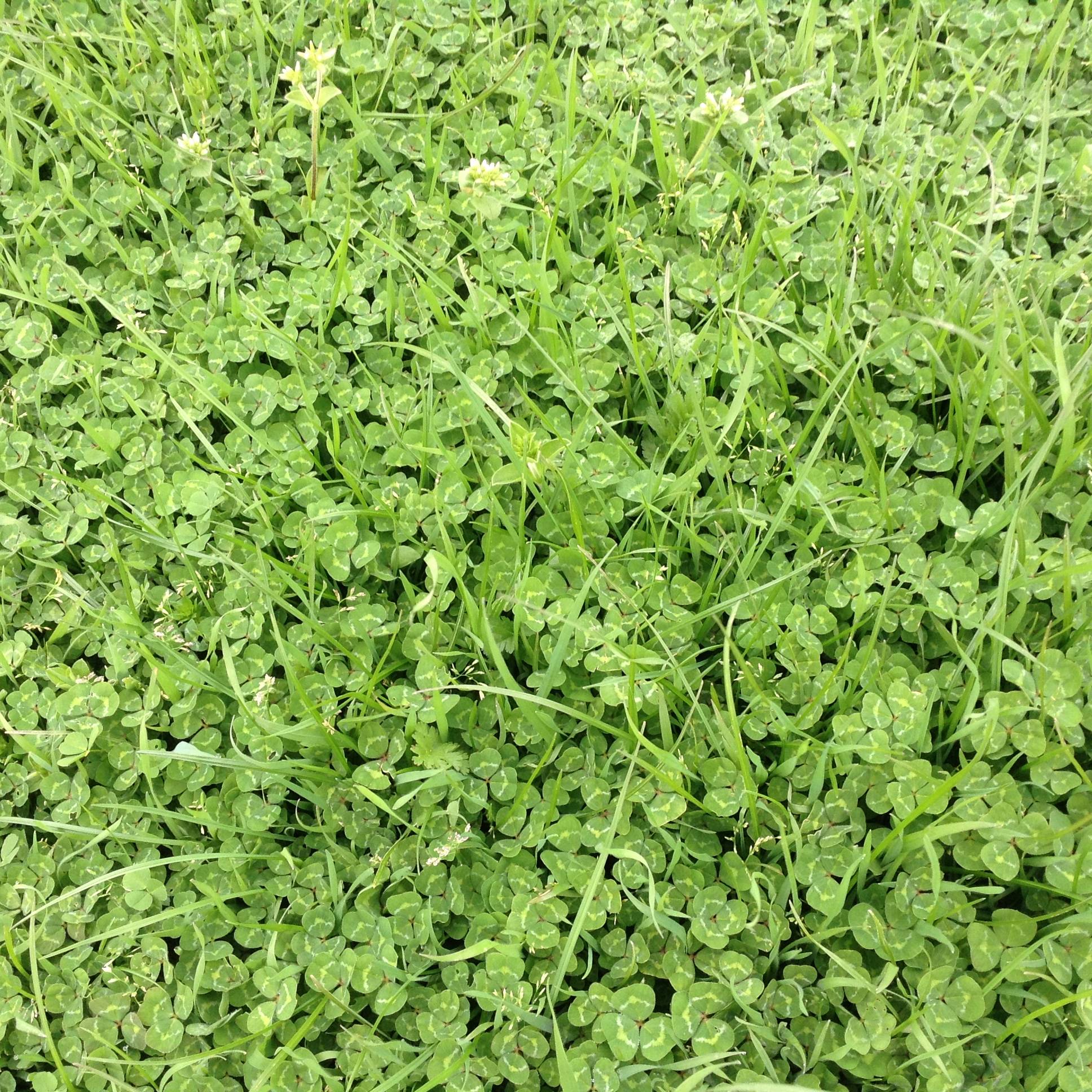 ---
Frequently Asked Questions

Will it take a long time to see results of the Biological Application compared to Conventional Methods (synthetic applications)?
No. While it can take a number of months to restore the balance of your soil biology (heavily depleted soils do take some time), you will still experience an initial "kick" to match that of synthetic applications.

This is because our biological application also contains natural stimulants and fertilizers that will quickly give your pasture a quick short term boost, without harming the soil biology.

Essentially, you won't have to sacrifice productivity during the time it takes for your soil biology to be restored. We naturally deliver the nutrients your plant needs now, while also cultivating the essential soil biology that is required for long term health, productivity and sustainability.
Should I continue to use artificial fertilisers and pest control alongside your biological application?
We don't recommend it as it is directly harmful to the soil biology that we are trying to restore and cultivate.
However, if you feel the need to use some form of chemical application, we recommend doing so before our biological application has been applied so that it's not directly impacting the new biology being added to the soil (by doing it after our application you will harm the new biology that was placed in the soil).
For the best results we recommend to completely cut out all forms of artificial inputs on pasture that has been treated with our biological application.
If I use your biological application does this mean I will never get any weeds again?
Not exactly. While you may still notice some weeds appear on your pasture as your soil biology improves, they will become decreasingly problematic.
This is because:
1. The likelihood of prolific breakouts is greatly reduced due to healthier soil (they are present but not dominant).
2. With healthy soil biology, most weeds that do grow become nutritionally valuable to your stock as sugar levels increase with healthy soil biology.
While you may notice some weeds after we restore your soil biology to good health, they will not become dominant and have very little negative impact on the health and productivity of your pasture.
Is this approach to farming sustainable?
Yes. In fact, the longer you farm biologically, the more secure and sustainable your pasture becomes.
This is because when cared for properly, soil biology increases over time and requires less interference and maintenance from you as the farmer.
Once the soil biology has taken hold and become balances and healthy (typically after 2-4 years of biological application) – we suggest to decrease biological inputs to either a bi-annual or tri-annual basis if costs are an issue.
As long as the biology isn't harmed in any way from chemical applications or over-grazing, the pasture will sustain and increase its profitability over time.
Biological farming is for the farmer who wants their pasture to become stronger, more productive and require less maintenance over time.
---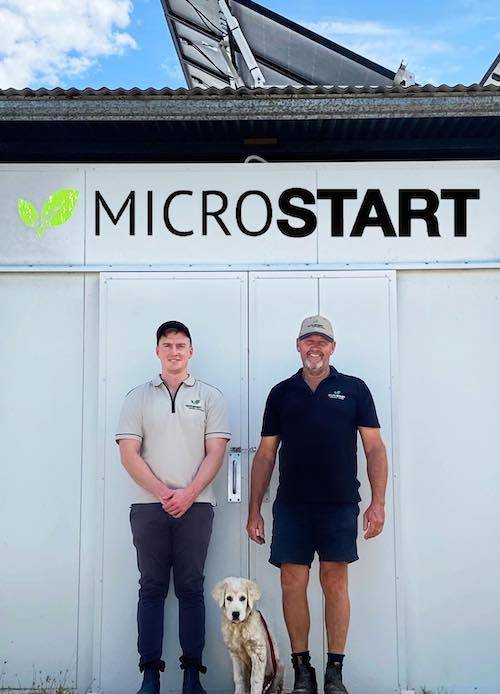 Microstart is an Australian-owned and family operated company run by Darren and Ryan Kuchel, based in Mount Gambier, South Australia.
Our goal is to help as many Australian farmers and gardeners to move away from harmful chemicals and artificial applications, so that they can grow the healthiest, most nutritious produce 100% naturally by utilizing the exciting science of biological and regenerative horticulture and agriculture.